Local search is one of the most powerful tools for any small business. According to Google, local searches without the qualifier "near me" have grown over 150% faster than those with it. Thus, if your business is not optimized, you will have a chance to miss out on potential customers. In crux, local SEO is the need of the hour in today's world.
To help you optimize your business for local SEO, hiring a reliable local SEO services company is always the best option.
This guide is designed to provide valuable insights and practical tips for enhancing your local online presence.
What is Local SEO?
Local SEO means making it easier for users to find nearby businesses when they search on the internet. This is especially important for businesses that have physical stores. By following some simple rules, businesses can appear higher in search results when users search for things near them. This can help them get more customers from their local area.
As per the study by On the map, 87% of consumers used Google to evaluate local businesses in 2022. Thus, search engines rely on social media profiles, links, citations, and local content to provide relevant search results to the customer.
Let's start with the types of SEO search results and which will be the most profitable for your business.
What Are The Types of Local SEO Search Results?
When you search for something on Google, the results are divided into three sections: sponsored, snack pack, and organic.
Sponsored results are ads that appear at the top of the page, and you have to pay for them.

When you conduct a local Google search, you may notice a special box at the top of the page called the "snack pack." It shows the top three business listings that match your search. So, if you're looking for a nearby restaurant or store, the snack pack is where you'll find them.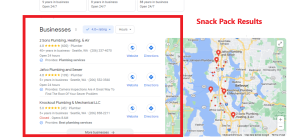 The snack pack is more visible than the regular search results, so more users will see your business if it's in it. The good news is that not all snack pack search results have paid ads, so your business can rank high without ads.
The pack results appear before the organic results. This means that even if your business ranks on the first page of organic results, it may not stand out as much as snack pack businesses. Additionally, Google has reduced the number of results to three for the convenience of mobile devices, making it a competitive market for rankings.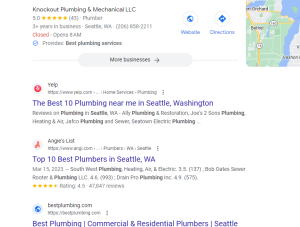 Thus, by hiring a local SEO agency, you can increase your chances of showing up in the search results, making it easier for users to find you online.
What Are The Key Tips To Boost Your Local SEO In 2023?
Make Your Google Business Profile Better
Google Business Profile has become the cherry on the cake for the search engine results pages. Google promotes, verifies, and shares its own content, making it essential for local search results. Then, how can you get the business listed on Google? You can get listed by setting up a Google Business profile. So, let us look at the steps to fully optimize the Google Business account.
● Regularly post content in the Google Posts in your account.
● Ensure that the customers leave positive and unique reviews on the page.
● Make sure that the reviews contain the target keywords and the location of the services/ goods such that they can reach appropriate audiences.
If Google verifies your business as real, you might get a special spot on the side of Google's local search. This brings in more business.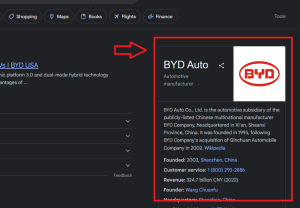 And it's not just about SEO. Customers will find you easier if your business has good reviews, updated contact information, and business hours.
Be Active On Social Media And Post Updates On your Google Business Profile
Google considers that the social media content that users share on social media is significant nowadays. If you have made an attractive page for your business on Google Business Profile, you should also share it on social media. This will help your social media and Google page work better together.
Moreover, it is also better to post updates on Google to get listed in search results and outrank competitors.
Always Use The Same Name, Address, And Phone Number When updating Online Directories
Consistency is key in local SEO. Ensure your business's Name, Address, and Phone Number (NAP) are consistent across all online directories. This may include your website, Google Business Profile, and social media profiles. Inconsistent NAP information can confuse search engines and potential customers, hurting local search rankings. Ensure that your details are accurate and up-to-date to improve your chances of being found by local customers.
Improve Your Listings In Online Business Directories
In the United States, the following four online directories provide data for Apple, Bing, Google Maps, and many more:
● Foursquare
● Factual
● Neustar Localize
● Express Update
It's important to be consistent when adding your citations to four different data aggregators. This means ensuring you use the same information and format for each one.
If there are any differences, such as spelling mistakes, abbreviations, missing suite numbers, or incorrect phone numbers, it could cause problems. This is because Google may be unable to determine which information is correct.
And if Google can't verify your business information, it may not appear in search results.
Perform A Local SEO Audit Of Your Website
Now that you have noted the basics, stepping on the accelerator and getting instant results can be tempting. However, SEO is a long-term and ongoing process. Instead of trying multiple approaches and hoping one works, an audit might help establish the ideal way to set up the website. Therefore, any local SEO company always suggests determining and fixing the problem by having a website audit. This tool will:
● Checking how your business is doing on Google: Look at how your business shows up when users search for it on Google. Is the information correct?
● Making sure Google can find your website: Check if it is easy for Google to read and understand. Are there any problems that would stop Google from including your site in search results?
● Checking your website for SEO: Looks at different parts of your site to determine how to improve it for search engines. Is your website using all the important on-page SEO elements?
● Checking your business information in directories: Determine if your business is listed correctly in important directories online.
● Reviewing how other websites compare up with your own: Evaluate your website compared to others in the same industry. Are there any aspects of your website that could be improved, such as adding more links or giving it a better look?
● Checking how well your website works: Scan for how fast it loads, problems, and other factors that impact website performance.
As a result, you will get access to your website's SEO audit report. Take note of the modifications needed to your site to facilitate local search engine optimization. Moreover, you can devise a local SEO strategy using local keywords and link-building plans to improve the website's score on the audit.
Wrapping Up
Now that you've learned some of the most important local search optimization tips, here are more to guide you:
●Ensure That You Have A Mobile Friendly Website
●Monitor The Latest Trends And Add Them To Your Next Posts
●Set Up Google Business Profile Messages To Connect With Customers
●Always Use Hyperlocal Content To Improve Your Profile Visibility
●Optimize Your Content For Voice Search
●Focus On Getting High-Quality Back Links
Thus, it's important to have a good local SEO strategy if your business has a physical store or serves a certain area. This means researching keywords and ensuring your business appears in local listings and sites. By doing this, you can make it easier for the users in your local community to find you when they search online.
As a local business owner, having a strong online presence is crucial to gaining brand recognition and authority. Therefore, it is better to have affordable SEO services for a local business like yours than to try to do it yourself. Moreover, they will have the means and the expertise to devise a better strategy.