As you may know, your website's search engine optimization (SEO) needs constant work. However, you must remember that to outrank your competition; one needs to keep up with the latest algorithm updates, among other things.
Fortunately, to help you with this, Artificial Intelligence (AI) has advanced to the point where you can leverage these AI SEO tools for your business needs. Think like this; these tools are your assistants, offering constant support to your team. They can assist you in recognizing commonly used keywords and enhancing your content's optimization. Moreover, they help enhance your site's user experience by proposing modifications and refining page loading speed.
So, if you are looking for the best AI tools for your business, you are in the right place.
What Is An SEO AI-Powered Tool?
An AI-powered SEO tool helps optimize and improve a website's visibility in search engine results. It analyzes factors such as keywords, content quality, backlinks, and user experience to provide actionable insights and recommendations for improving a site's search engine ranking.
These tools automate keyword research, content optimization, and competitor analysis, making the SEO process more efficient and effective. By using AI algorithms to adapt to changing search engine algorithms and user preferences, the tools are helping businesses and website owners stay competitive online.
Top SEO AI Tools In 2023
This section will provide you with some of the best tools on the market to help you optimize your website. This helps rank the site on search engines.
Important🎯: Search engine optimization is like a plan that takes a while and naturally brings more users to your website. You can also try PPC Marketing alongside your SEO efforts if you want quick results.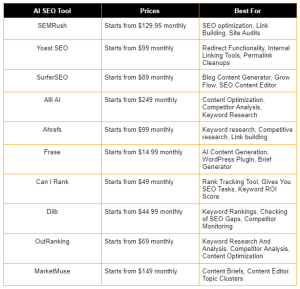 1. SEMRush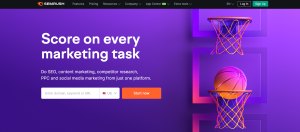 Semrush has many smart tools that use AI to help marketers. They ensure your website ranks higher in search results without paying for ads. There are over 50 tools in Semrush that can help you with things like improving your website, figuring out what your competitors are doing, and promoting your stuff on social media. If you're a marketer, these tools can make getting more people to visit your website easier.
Here are some of the features of SEMRush:
SEO strategy
SEO optimization
Link Building
Site Audits
PPC Features
2. Yoast SEO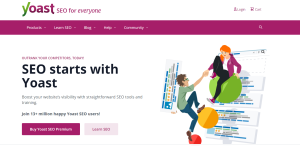 Yoast SEO is a great tool that helps your website do well in search engines. Whether you're new to this or an expert, it's fantastic. It can do many things, like organize your website's information, fix web addresses, and improve your content for readers. Using Yoast is like having a bunch of tools all in one! Yoast gives you clear instructions on how to make your writing easier to understand, organize your links, and come up with good titles. You just need to enter one or two main words you want to focus on. And there's also an AI helper called Bertha that helps you write better.
Here are some of the features of Yoast SEO:
Content Optimization Using Focus Keywords
Redirect Functionality
Internal Linking Tools
Permalink Cleanups
Social Previews
3. SurferSEO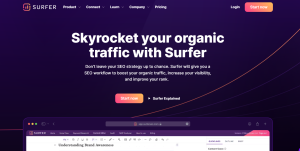 Surfer SEO represents an AI-powered SEO solution that enhances your content development workflow for higher SERP rankings. Employing advanced Natural Language Processing (NLP), it conducts keyword research, composes content, and fine-tunes optimization. The tool offers a set of complimentary features, such as an AI-driven article outline generator and a Chrome extension dedicated to keyword research.
The standout component of Surfer SEO is Grow Flow, a progressive management platform. This tool offers weekly, manageable tasks to boost your website's ranking. It aids in identifying potential topics to address and furnishes recommendations for internal linking strategies.
Here are some of the features of SurferSEO:
Blog Content Generator

Grow Flow

SEO Content Editor

Plagiarism Checker

Integrates With Google Docs, WordPress, Jasper, And Others

AI Outline And A Content Generator
4. Alli AI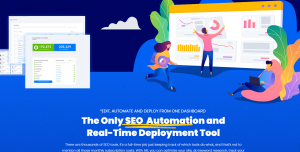 Alli AI is a top-notch AI SEO tool. It helps businesses with their SEO work by making it automatic. Imagine you're a marketer with many things to do – this tool makes your life easier. Here's how it works: After checking out your website, it gives you ideas to improve your SEO. If you like the ideas, you can make them happen with just a click. This tool lets you try different keywords on your pages and see which ones work best. After the test, it keeps the best version for you.
Here are some of the features of Alli AI.
Content Optimization
Competitor Analysis
Keyword Research
Tracking And Reporting
5. Ahrefs
Ahrefs is a vital tool for improving your website's visibility on search engines. It can check where other websites link to yours, find good keywords, check for problems, analyze your content, and monitor your competition. If you want to put a lot of effort into just one tool, Ahrefs is an excellent choice because it's well-known and trusted by experts in this field. One of the best things it does is help you find good keywords to use on your website. It doesn't just work for Google but also for YouTube and Bing. Plus, it can check your website thoroughly to find any technical or on-page issues holding you back.
Here are some of the features of Ahrefs.
Keyword research
Competitive research
Link building
SEO audit tool
Pro Tip 💡
It is always better to hire a professional digital marketing company that can provide you with the best organic SEO services. These companies optimize and market your products and services and get organic traffic using SEMrush, SurferSEO, and Yoast SEO.
6. Frase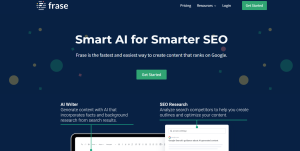 There's much to consider when writing content to improve your website's search ranking. You need to use the right words and research the main keywords. But it's also essential to ensure your articles are focused and relevant. This is where Frase comes in. Frase is a tool that can help make this process easier. Frase can also look at the questions people often ask about a topic and help you write short descriptions that show up in search results. As a result, more people are likely to find your website when they search online.
Here are some of the features of Frase.
AI Content Generation
WordPress Plugin
Brief Generator
7. Can I Rank
The "CanIRank" software is designed to help you appear higher in search engine results when people look for things online. It does this by looking at your website and other similar websites, giving you clear instructions on how to make your website better and easier to find. If you're considering getting help from other people for these tasks, CanIRank can even tell you how much money it might cost and how long it might take to get everything done. This helps you plan ahead and make good decisions for your website.
Here are some of the features of CanIRank:
Rank Tracking Tool
Gives You SEO Tasks
Keyword ROI Score
8. Diib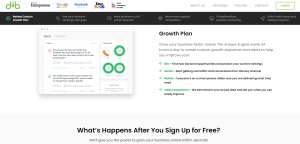 Diib is like an intelligent helper for your online business. It's an AI-powered tool that helps your website improve on search engines and get more visitors. With Diib, you don't need to worry about the technical stuff because it can handle much of it. It even shows you how well your website performs compared to similar businesses. A neat thing about Diib is that it gives your website a daily score to see its health. It uses a unique formula that looks at 12 different things to determine if your website is doing well or if something needs fixing.
Here are some of the features of Diib.
Keyword Rankings
Checking of SEO Gaps
Competitor Monitoring
Website Monitoring
Daily Health Score
9. OutRanking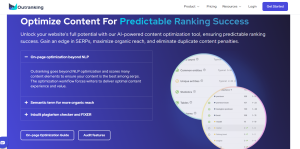 Outranking is an excellent keyword research tool for making your website appear higher in search engine rankings. It does many helpful things, like planning your content, making it better for search engines, keeping track of your site's performance, and studying the data. A cool thing it does is check your whole website thoroughly. It looks at different things that affect how well your site appears in search results, like if your pages are set up correctly, the links pointing to your site, and any technical problems.
Here are some of the features of OutRanking:
Keyword Research And Analysis
Competitor Analysis
Content Optimization
Performance Tracking And Reporting
10. MarketMuse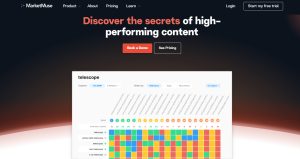 MarketMuse is like an intelligent helper that uses AI to find where your content needs improvement. It gives you ideas for new things to write about and suggests words to use. If you need help making content, this tool has valuable features for people who plan what to write. One cool thing about MarketMuse is how it groups similar topics to help you decide what to write next. This is important for making your content better. Tools like Ahrefs and SEMrush also do this, but MarketMuse does it precisely.
Here are some of the features of MarketMuse:
Content Briefs
Content Editor
Competitive Content Analysis
Topic Clusters
Pro Tip 💡
If you want an all-in-one solution for your business website, you can consider hiring the best SEO company to provide all the services under one umbrella.
Conclusion
SEO is changing quickly, and using AI SEO tools can keep you ahead.
If you make content, market things, or own a business, these tools can help you get good results.
This blog has mentioned the top 10 AI tools to help you with SEO. These tools can improve your website so that more people can find it.
These AI-powered SEO tools help with keyword research, search engine optimization, content creation, and website checks. And don't forget to spend some effort on performance marketing alongside your SEO work to get the best results.